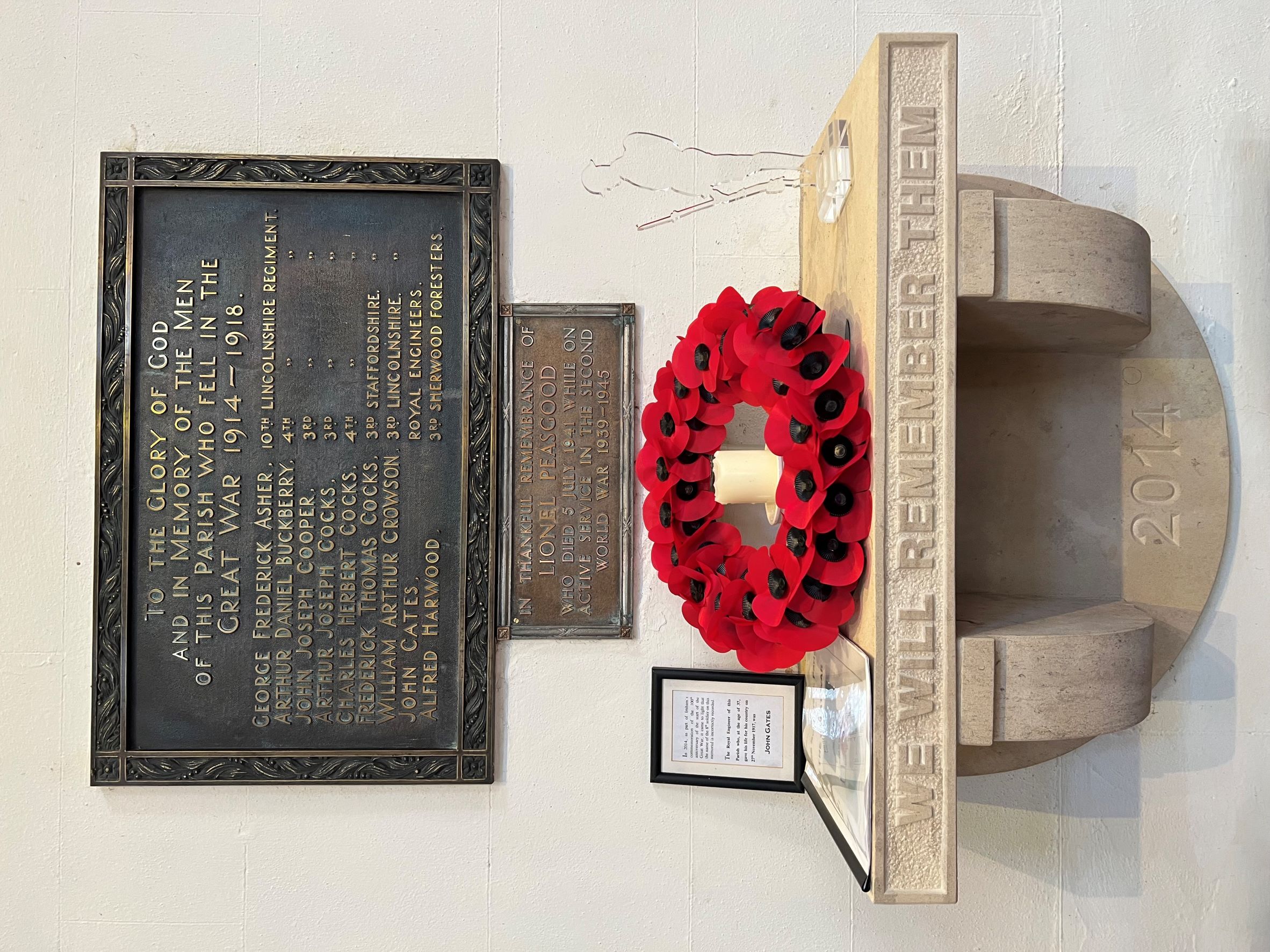 This page is dedicated to the memory of the men of this Parish who gave their lives in the Great War, 1914-1918.
George Frederick Asher, 10th Lincolnshire Regiment
Arthur Daniel Buckberry, 4th Lincolnshire Regiment
John Joseph Cooper, 3rd Lincolnshire Regiment
Arthur Joseph Cocks, 3rd Lincolnshire Regiment
Charles Herbert Cocks, 4th Lincolnshire Regiment
Frederick Thomas Cocks, 3rd Staffordshire Regiment
William Arthur Crowson, 3rd Lincolnshire Regiment
John Gates, Royal Engineers
Alfred Harwood, 3rd Sherwood Foresters
The photograph shows the War Memorial on the south wall of the nave in St. Andrew's Church.
To mark 100 years since the beginning of the Great War this new memorial was installed in 2014.
In 2014 the Parochial Church Council of St Andrew's, Irnham, set out to find what they could about the lives, and circumstances of the deaths, of the soldiers of the Parish who fell in the Great War and whose names are recorded on the village war memorial. To that end, the Commonwealth War Graves Commission (CWGC) database was interrogated, the 1901 and 1911 censuses were consulted and Parish records, held both locally and at the County Archives in Lincoln, were examined. The results of the investigation were presented to a large congregation during a service held on 4th August 2014 to commemorate the 100th anniversary of the start of the Great War. The contents of that presentation are recorded in the following document so that readers might know something of the soldiers of the Parish who fell in the Great War beyond just their names.
In 2021 the Parish Council began a tradition to further mark the period of remembrance in November each year. in the three villages by displaying soldier silhouettes and large poppies on lamp posts. Where possible the poppies are placed near the houses originally occupied by the named person.